Siding Contractor in Clifton, Passaic & throughout NJ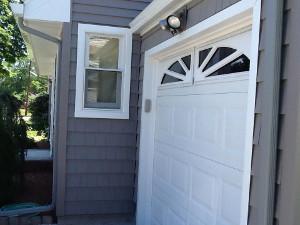 Affordable Home Services is an A+ BBB Rated, licensed and award-winning contractor that excels in siding installation, roof replacement, roof repair, window installation many other types of work.
At Affordable Home Services we offer many high quality and affordable siding styles and options that pays for itself through durability & massive energy savings. Make sure to view our very satisfied customers in your local neighborhood by viewing our before and after pictures and customer reviews below.
Get a FREE estimate today on a siding installation or any other service by clicking the FREE estimate button below.
High-quality siding options that combine beauty & durability
At Affordable Home Services, we offer multiple siding materials including traditional and maintenance-free solutions that will increase the beauty and value of your home. We use the best siding products from leading manufacturers. Take a look below at the major benefits of the different siding materials that we offer. Our siding specialists can help you choose the best option for your home.
Vinyl Siding
Delivers durability & resistance to extreme weather
Gives the look of wood siding without the cost or maintenance
Won't split, peel or rot
Resistant to fading
Never needs to be painted, stained or scraped
Wide range of colors & textures to choose from
Fiber Cement Siding
Available in a wide range of colors & styles
Designed to resemble conventional siding materials like cedar shingles, wood & stucco
Resistant against fire, wind, termites & rot
Durability of material reduces maintenance costs
Can be primed & painted
Stone Veneer & Brick Veneer Siding
Provides a realistic look of traditional brick & stone
Low-maintenance siding option
Cost-effective alternative to real brick & stone
Brick veneer siding is durable & fireproof
Faster & easier to install than real stone & break
Steel Siding
Provides exceptional strength & impact resistance
Available in a variety of colors & textures including wood-grain
Excellent fire resistance
Manufactured with a protective coating for optimal performance
Cedar Siding
Provides a beautiful, unique, timeless look
Naturally water resistant
Provides resistance against decay & insects
Siding can be treated with stains & finishes
Cedar is an environmentally-friendly material
Products
James Hardie® siding products are on more than 5.5 million homes across America. Their fiber cement siding and trim are engineered to withstand the specific climates in which they are used. When you choose James Hardie siding, you can feel confident knowing that you chose a product designed for beauty and durability.
HardiePlank Lap Siding
HardiePlank Lap Siding is traditional, timeless, sleek and strong; making it not only the best-selling product from JamesHardie, but the most popular brand of siding in America. All styles of HardiePlank siding are Engineered for Climate and come primed, or with baked-on ColorPlus Technology.
The following styles are available in a variety of color options.
Select Cedarmill
Natural cedar look with a wood-like texture, ideal for historic homes, mountain chalets or ranch homes.
Smooth
This smooth look is simple and ideal for coastal homes or ranches.
Beaded Cedarmill
Inspired by coastal communities near the Eastern seaboard, ideal for homes with a unique appearance.
Beaded Smooth
A beaded edge adds a sleek look to the smooth, simple board, perfect for a more traditional look.
Headquartered in Valley Forge, PA, CertainTeed is a leading North American manufacturer of building materials and specializes in the production of high quality roofing and other materials including vinyl siding, trim, fence, railing, decking, insulation, gypsum, and ceiling products.
The Beauty Of Vinyl Siding

Any look - historic to contemporary - can be achieved with today's vinyl siding. Vinyl siding has the widest variety of style and color offerings of any other exterior siding, including:
Horizontal and vertical panels
Shakes, scallops, shingles, fish scales
Traditional clapboard
Dutchlap
Beaded designs
Durability
The ability to withstand high winds (certified up to 110 mph or higher) and a composition that resists heat, cold and moisture, certified vinyl siding retains its great looks over time. Vinyl siding never needs paint. Ever. The only maintenance it will need is a simple wash with a soft cloth and garden hose to keep it looking great.
Quality
CertainTeed Vinyl Siding offers the best vinyl siding features and color options, along with exceptional durability and lasting beauty.
- What's the best way to prove a product will perform as promised?
Independent testing. This is why the Vinyl Siding Institute (VSI) established the VSI Product Certification Program.
Administered by Architectural Testing, Inc. of York, PA, the program allows manufacturers to certify with independent, third-party verification that their products meet or exceed the testing requirements specified in the industry standard for quality.
-How many products have passed this Certification Program?
There are nearly 825 products and nearly 325 colors on VSI's Official List of Certified Products and Colors. In 2012, approximately 18 million squares of vinyl siding were manufactured in the United States. (A square equals 100 square feet of siding, or enough to cover a 10-foot x 10-foot area.) Another key test of quality is how long manufacturers are willing to warrant their products. Warranties offered by vinyl manufacturers typically last a lifetime and can be transferred to the next owner.
Mastic Home Exteriors by Ply Gem is the "Exterior Solution" for homeowner's with a wide range of products including insulated siding, traditional vinyl siding, polymer shakes, replacement windows, shutters, vinyl soffit, aluminum soffit, fascia, gutters and gutter protection.
Mastic Traditional Lap Siding
Mastic Traditional Lap Siding provides the clean lines and easy installation that have made lap siding a popular choice for homeowners with the quality and durability you can count on from Mastic. This siding will not only make your home look great, but it will also help protect it from the elements for years to come.
Why Choose Mastic Traditional Lap Siding?
13 separate product lines
Wide range of colors and finishes, including multiple wood grains
Multiple sizes and profiles complete custom look
Designed by Mastic, a leading industry manufacturer
Alside provides the latest energy-efficient products backed by industry-leading warranties and can assure customer satisfaction with every investment in their business. Alside has specialized in over 70 years of excellence in the exterior building products industry and they stand by their innovative ideas and functionality of their products.
Charter Oak® Energy Elite
Charter Oak® Energy Elite is a specific brand of insulated vinyl siding that can improve the look and feel of your home. Not only does it reduce energy costs in your home, but it allows your home to be at its maximum energy efficiency so that you don't have to stress when the utility bill comes. Your home can greatly benefit from having Charter Oak® Energy Elite installed. It can withstand harsh weather conditions and provides a visually stimulating look to the outside of your house. Charter Oak® Energy Elite is more breathable and durable than regular siding and comes with a lifetime warranty.
Prodigy Siding
Alside Prodigy Siding offers exceptional resistance to heat flow which translates into utility costs savings.
Royal is a leading manufacturer of durable building materials including siding, trim, windows, doors and more.
Royal Building offers an assortment of siding options, including shake & shingle siding, insulation siding and traditional siding. All our siding products offer several great benefits for homeowners:
Improved R-value for better energy efficiency
Variety of styles and colors for a beautiful finished finished
Excellent durability and impact resistance
Low maintenance materials
James Hardie® siding products are on more than 5.5 million homes across America. Their fiber cement siding and trim are engineered to withstand the specific climates in which they are used. When you choose James Hardie siding, you can feel confident knowing that you chose a product designed for beauty and durability.
JamesHardie Siding
Only James Hardie® siding and trim are engineered to withstand the specific climate in which they are used. Feel confident knowing that you chose a product designed for beauty and durability. JamesHardie offers an array of quality siding products:
HardiePlank® Lap Siding
Lap siding is a classic look that crosses over many architectural styles. HardiePlank siding from James Hardie is America's most popular brand of siding. Available in a variety of finishes, including Select Cedarmill, Smooth, Beaded Cedarmill and Beaded Smooth.
HardieShingle® Siding
Looks great on Cape Cods and cottage-style homes. But if you like the look, don't limit yourself. Use HardieShingle® siding to highlight a gable or accent the top half of your house. Available in several styles, including, staggered edge panel, straight edge panel, individual shingles and half-rounds.
HardiePanel® Vertical Siding
Works well with farmhouse-style or modern homes. Available in a variety of finishes, including Select Cedarmill, Smooth, Stucco and Sierra 8.
Artisan® Collection by JamesHardie
Perfect for creating a sense of luxury and historical accuracy for any style home. The architectural grade line includes lap siding, V-Rustic premium siding, and accent trim.
Aluminum Siding
Aluminum siding is waterproof & won't rust
Enamel coating can mimic the look of traditional siding materials
Resistant to fire damage
Can be combined with insulation for greater durability & efficiency
Get a free siding estimate today!
All of our siding options allow you to customize the appearance of your home's exterior. After reviewing all of our options, speak with one of our professionals during a free estimate to have your new siding installed at a time convenient for you.
Affordable Home Services provides our professional siding services in Passaic, Clifton, Montclair, West Orange, Hackensack, Newark, Livingston, Paterson, Elizabeth, Jersey City and surrounding areas.